Adventskalender dag 10
BEST FRIENDS
Jouw beste vriendje(s) goed verzorgd
Het gebruik van de best friends POOTJESBALSEM wordt aanbevolen in het natte en koude seizoen. De balsem voorkomt irritaties van steentjes, zand en strooizout. De best friend Pootjesdoek is ideaal na de wandeling om de pootjes te drogen en schoon te maken.
De Vachtverzorgingsdoeken zijn van dezelfde microvezels als de Pootjesdoek en behoren tot de best verkochte producten uit de best friends productenlijn. De doeken nemen veel vocht en vuil op en zijn heerlijk zacht voor jouw beste vriend. Ideaal na een regenwandeling, een zwembeurt of na het wassen.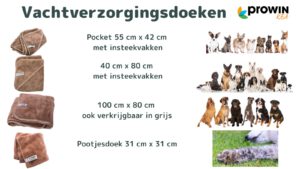 Hieronder de Vachtverzorgingsdoeken in actie…
Zoals beloofd ook nog een andere exclusieve best friends verzorgingsset.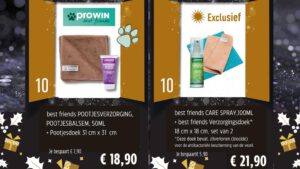 Hieronder worden beide sets toegelicht.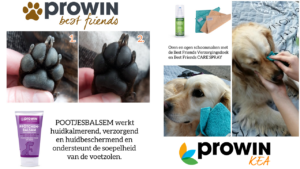 De best friends productenlijn biedt nog veel meer. Naast voeding en snacks voor jouw hond of kat hebben we nog meer verzorgingsproducten zoals je kunt zien in onderstaande VERZORGINGSSPECIAL.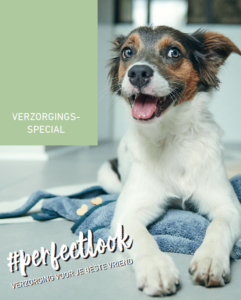 Klik hier of op onderstaand plaatje voor de berichten van de voorgaande dagen van de Adventskalender