Adventskalender dag 2
Shower & Body SORBET
Refresh your skin
Als jij niet naar de zee kunt, haal je het beste uit de zee toch naar jou. Nu de winter echt is aangebroken, is een beetje extra verzorging niet verkeerd. Ook geschikt voor de gevoelige huid en uiteraard zonder minerale oliën, paraffine, siliconen en PEG-verbindingen.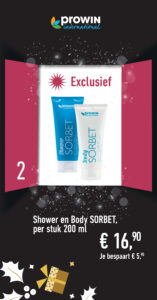 Shower SORBET is een heerlijke zachte douche SORBET voor de dagelijkse lichaamsreiniging. Deze bevrijdt de huid grondig en mild van vet en vuildeeltjes. Het product met Dode Zee zout, verzorgt de huid en heeft een gunstig effect op een stralende en frisse uitstraling.
Advies:
Reinig jezelf tijdens het douchen of baden met een kleine hoeveelheid Shower SORBET. Heerlijk in combinatie met de Soft Bodyhandschoen.
Body SORBET bevat een combinatie van sheabutter, jojoba olie en Dode Zee zout. De lichaamshuid ziet er daardoor prachtig, glad en zacht uit. De huid wordt heerlijk soepel en elastisch. Daarnaast zorgt de Body SORBET met zijn hoogwaardige ingrediënten voor extra hydratatie van de huid.
Advies:
Op de gereinigde lichaamshuid aanbrengen en licht inmasseren.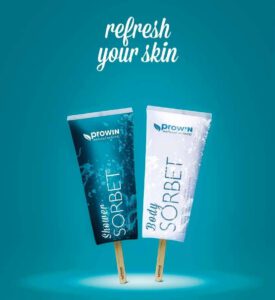 Een perfecte aanvulling op deze SORBET-actieset is de Peeling SORBET.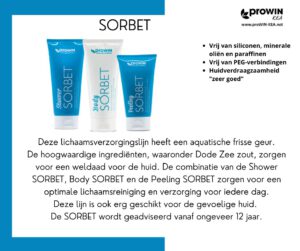 Klik hier of op onderstaand plaatje om te zien wat proWIN nog meer te bieden heeft op het vlak van natural wellness.