Adventskalender dag 21
Waardebon proWIN
Nog geen cadeau voor onder de boom?
Geen nood! Koop een waardebon van proWIN en maak jouw dierbaren gegarandeerd blij met Kerstmis.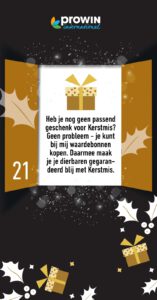 Misschien heb ik het niet meer op voorraad wat je wilde hebben, je weet het gewoon niet of jouw dierbare weet niet wat hij/zij wil hebben. Een waardebon is dan ideaal en dan heb je toch iets moois voor onder de boom. Ik kan de proWIN-waardebon digitaal voor jou invullen en dan ben je zeker op tijd voor de kerst. Je kunt kiezen voor een bedrag, maar je kunt ook kiezen voor een bepaald product of een bepaalde set. Je kunt de bon digitaal geven aan iemand wat verder weg of waar je niet op bezoek mag of je kunt hem afdrukken en persoonlijk geven of onder de boom leggen.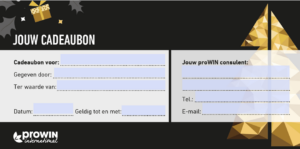 Bekijk onderstaand filmpje ter inspiratie. Tijdens de Adventsdemo zijn er natuurlijk voldoende leuke cadeau-sets voorbijgekomen.
En je kunt natuurlijk ook Sinterklaas- en Kerstshoppen.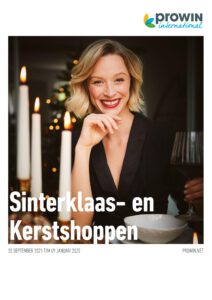 Klik hier of op onderstaand plaatje voor de berichten van alle voorgaande dagen van de Adventskalender