Adventskalender dag 24
Fijne kerstdagen én 2 BOEKINGSGESCHENKEN
Boek een demo die plaatsvindt in januari en ontvang niet 1 maar 2 BOEKINGSGESCHENKEN als gastvrouw/ -heer.
Naast de 2 BOEKINGSGESCHENKEN is er voor de gastvrouw/ -heer natuurlijk ook nog de mogelijkheid om de win-i met heel veel korting te mogen aanschaffen bij een demo van € 600 of meer.
Het is natuurlijk (bijna) kerst en de consulenten van Team proWIN-KEA zijn helemaal in kerstsfeer en staan uiteraard ook na de kerst weer graag voor jou klaar. Kijk of je jouw consulent(e) kunt vinden in het filmpje.
Het is ontzettend leuk om een thema-demonstratie te boeken. Je kunt dan bijvoorbeeld wat dieper ingaan op het gebruik van de diverse proWIN-producten in de keuken.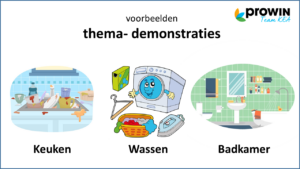 In het filmpje met de consulenten in kerstsferen kon je zien dat we op zoek zijn naar leuke collega's. Onderstaand filmpje laat kort zien wat het is om proWIN-consulent(e) te worden en zijn.
Klik hier of op onderstaand plaatje voor de berichten van de voorgaande dagen van de Adventskalender