Adventskalender dag 3
AIRBOWL 1+
Schone lucht is kostbaar voor jezelf en voor jouw naasten
De proWIN AIRBOWL zorgt samen met PURE AIR voor het neutraliseren van nare geuren én schadelijke stoffen. Lucht is namelijk een kostbare levensbehoefte en toch is frisse lucht helaas niet vanzelfsprekend. Industrie, auto´s en de klimaatverandering hebben invloed op onze kwaliteit van leven. Vaak verblijven we, zeker in de winter en bij slecht weer, lang in gesloten ruimtes en kantoren. Dan wordt er lucht verbruikt en niet voldoende frisse lucht vervangen. De oplossing is de AIRBOWL 1+. Een praktisch apparaat dat vervuilde lucht kan reinigen.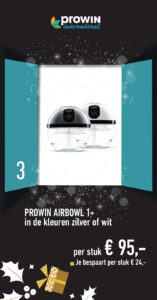 De AIRBOWL gebruikt het waterfilter-principe voor de luchtreiniging. In combinatie met één van de varianten proWIN PURE AIR kunnen schadelijke stoffen en onaangename geuren geneutraliseerd worden. Tijdens de feestdagen is de AIR BOWL natuurlijk ideaal bij de gourmet, fondue of steengrill.
De AIRBOWL 1+ nu met €24,- korting. Hieronder meer info over dit geweldig apparaat.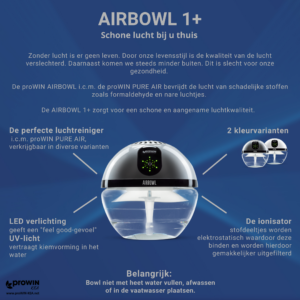 Klik hier of op onderstaand plaatje om nog een ander filmpje te zien over de AIRBOWL 1+.