Wassen 06: Acties

Basissets
Er zijn zowel basissets (die er altijd zijn) als ook tijdelijke actie(set)s.
Er zijn een 2-tal basissets met flinke voordelen, waarbij het verschil zit in de TEX N'CLEAN BOUTIQUE No. 1 variant. In set A draait het om de ZERO-variant en in set B om de LEMON-variant.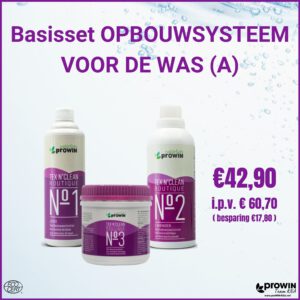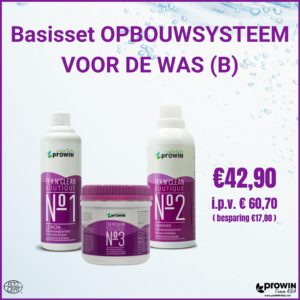 Actiesets
Er zijn in de folder Start van het Jaar (geldig t/m 31-03-2023) diverse actiesets m.b.t. de wasproducten van proWIN.
Mooie startset met evt. aanvullende producten.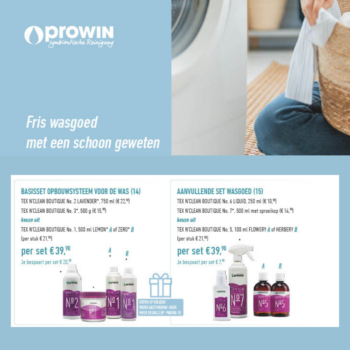 Als je al bekend bent met de wasmiddelen kun je door de aanbiedingen op de grootverpakkingen of meervoudaanbiedingen nog veel voordeliger uit zijn. Bijkomende voordelen is dat het nog milieuvriendelijker is (minder verpakkingsmateriaal) en je kunt een hele lange tijd vooruit.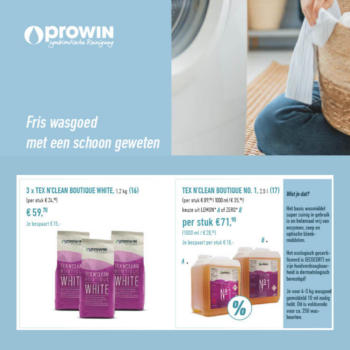 Geschenken
Bij een bestelling van €30 mag je een Klantengeschenk uitkiezen.
Boek een demonstratie online of live en dan krijg je alvast een Boekingsgeschenk. Nodig vrienden, familie, buren en collega's uit en dan maak je er samen met jouw consulent(e) een geslaagde demonstratie van. Wellicht kun je dan ook nog beloond worden met een (Speciaal) Succes Geschenk.
In de actuele folder kun je alle actuele geschenken en actie(set)s terugvinden.
De actuele prijslijsten van proWIN kun je hier terugvinden.
Klik hier of op onderstaand plaatje voor de andere onderdelen van Wassen met proWIN.