THEMA MAAND JANUARI: MISTER FLEXIBLE set voordelig voor gastvrouw/ gastheer

Van 1 t/m 31 januari de MISTER FLEXIBLE als SPECIAAL SUCCES GESCHENK tegen een bijbetaling van €34.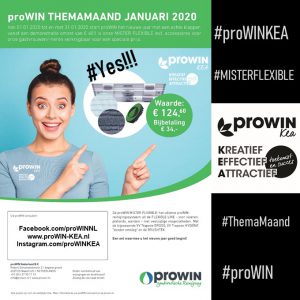 Speciaal voor de gastvrouw/ gastheer en dat alleen in januari.
Dat is een lekker begin. In 2020 starten we fantastisch met de THEMAMAAND JANUARI. Bij een demo-omzet van €600 of meer kan de gastvrouw/ gastheer een MISTER FLEXIBLE set t.w.v. €124,60 tegen een bijbetaling van €34 als SPECIAAL SUCCESGESCHENK kiezen. Boek dus snel een demo voor in januari bij jouw proWIN-consulent(e).
Heb je of ken je geen consulent(e) klik dan hier.